Paradise Hill Resort - Mahmutlar - Turkije » English
Paradise Hill Resort - Mahmutlar - Turkey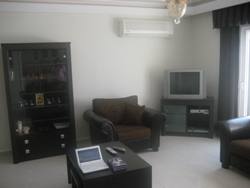 Mahmutlar lies some 10 kilometres to the east of the city of Alanya and 120 kilometres from the airport. An increasing number of foreigners are finding the pleasant Mahmutlar to be the ideal place for their holiday. See also www.mahmutlar-alanya.eu.

The 5-star holiday paradise that is Paradise Hill Resort lies in one of the most beautiful locations in the Alanya area. It is situated 500 metres from Mahmutlar village and within walking distance of the beach. The resort has all kinds of facilities, such as 2 large swimming pools with water slide, tennis and basketball court.

Our Penthouse has a spacious lounge, luxury kitchen with everything provided, 4 large balconies, 4 bedrooms of which 1 is a second lounge/study, 3 bathrooms of which 1 has a jacuzzi, guest toilet and a sauna.