Paradise Hill Resort - Mahmutlar - Turkije » English » About Mahmutlar
About Mahmutlar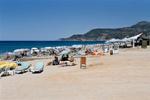 Mahmutlar lies at the foot of the impressive Taurus mountains, approximately 10 kilometres from the town of Alanya and approximately 120 kilometres from Alanya´s International Airport. More and more tourists are beginning to discover this picturesque village that has a lot offer to those that seek peace and tranquillity.
With its breathtaking landscape, warm climate and great hospitality shown by its inhabitants, Mahmutla has everything you need to make your holiday an unforgettable one! An irresistible clear blue ocean, endless white beaches and banana plantations are just a few of the essential ingredients that will seduce your senses and enable you to fully relax.
Mahmutla´s subtropical climate is prevalent throughout the year, even during the Winter season. Temperature fluctuates from 15 to 20 degrees Celsius in December and January. During Fall and Spring the temperature can rise up to 25 to 30 degrees Celsius whilst in Summer the mercury can rise up to a staggering 35 degrees Celsius, offering a warm but pleasant climate nevertheless.
Mahmutlar offers a perfect combination of peace, surroundings and recreational fun, but with the liveliness and bustle of the popular town of Alanya only a few kilometres away and very easy to access by bus, taxi or even bicycle. Mahmutlar is a safe and very pleasant holiday destination, its inhabitants are extremely hospitable and you will experience a calm and serenity that will allow you to truly wind down.
Mahmutlar offers something for everyone. There is an abundance of shops, pubs and good quality restaurants. Rummage for something over the market on Tuesdays and Saturdays, with its fresh vegetables, handmade decorations and affordable clothing, or discover the many fabulous beach tents, outdoor cafés and deck chairs that occupy the sandy beaches that stretch for miles and miles. A visit to Flavor Beach and Hassans Beach is highly recommended and the popular Klas discotheque is conveniently located nearby if you like to take the floor.
Mahmutlar's local area offers a wide range of sights and cultural riches worth seeing, such as the historical castle at Alanya's cape and the Damlatas Cave, which is said to have a healing effect on disorders of asthmatic nature. The ruins of ancient cities such as Laertes and Syedra are worth a visit too. If all you want to do is relax, spend your day by the Dimcay river or enjoy a boat trip* to Turkish Cyprus (*during Summer season only).