Paradise Hill Resort - Mahmutlar - Turkije » English » Paradise Hill Resort
Paradise Hill Resort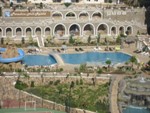 The 5-star holiday paradise that is Paradise Hill Resort lies in one of the most beautiful locations in the Alanya area. It is situated 500 metres from Mahmutlar village and within walking distance of the beach. The resort has all kinds of facilities, such as 2 large swimming pools with water slide, tennis and basketball court. There is a heated indoor swimming pool, sauna, hamam, Turkish bath and a fitness room. The fitness centre has a variety of equipment to get or keep you in shape. Paradise Hill Resort is a paradise for children too. They have their own swimming pool and playground. There is a crèche, their own first aid station and there is a taxi service.

The grounds of Paradise Hill Resort are kept under 24-hour surveillance and are surrounded by a stone wall with a main gateway.

For more information click HERE.